The scary part of Halloween should be the tricks and not the treats.  You don't have to be scared by these treats, they mostly vegan or gluten free, and make nice alternatives to traditional, super sweet Halloween goodies. They are so delicious and fun, that even your little monsters will enjoy them, and be tricked into thinking they are eating something that will rot their teeth out.  Try these recipes to keep Halloween fun, but make it healthy too!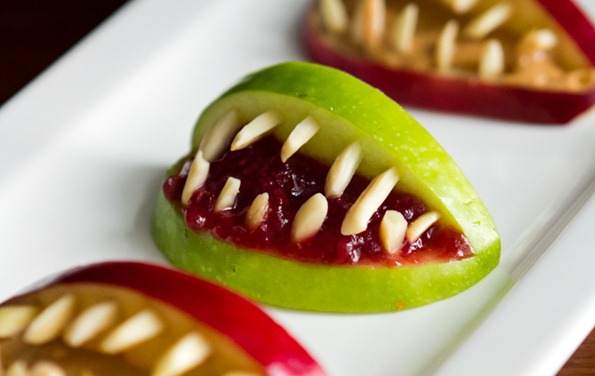 These apple bites are festive, healthy and most importantly, easy to make!  All you have to do is carve out some apple wedges (the tricky part) and then use your favorite jam or nut butter for the tongue, and decorate with some gnarly slivered almond teeth.  These would look super cute on any Halloween buffet table.
Don't worry, these are just cookies, scarily realistic looking, vegan cookies!  These treats are perfect if you are looking to give someone a scare this Halloween, and then calm them down with a delicious snack!
It just isn't Halloween without candy corn! While not the most flavorful candy out there, candy corn is definitely a classic.  With this vegan version, you have some room to boost the flavor by adding your favorite extracts or flavoring.  Plus, you can pretend to be playing with playdoh when making the shapes — playing with food is always fun.
No list of Halloween goodies would be complete without something made of pumpkin.  These muffins (gluten free) have all the classic pumpkin spices, and would make a great Halloween breakfast on the go!
These cupcakes are perfect to make for kids, because they are the perfect balance of something that can be very scary made cuddly and cute.  They are fun and easy to make, and almost too cute to eat…almost.
Every Halloween party needs a bowl of liquid with an ice cube hand floating in the middle, it's just such an awesome idea.  The contrast in colors between this vegan smoothie (featuring romaine and bananas) and the beet juice hand is so beautiful, and when the hand melts it starts to look like a creepy, bloody concoction.  Perfect for Halloween!
I know not everyone just has dry ice laying around, but these cocktails look so cool and have such a creepy story behind them I just had to include this recipe.  It was inspired by the story of "La Llorona," or "The Weeping Woman" who drowned her children to be with a man who didn't love her back, and after taking her own life now haunts bodies of water searching for her kids.  Terrifying.  This recipe uses sugar, but you can easily replace it with whatever sweetener you like to use in your cocktails.  And the idea of having a cocktail with smoke wisping off the top is just so cool.
Halloween is probably one of those times of year when vegans, or anyone else who can't or doesn't eat dairy misses classic candies the most.  This recipe is an adaptation of Nestle Crunch bars using cocoa powder.  They are easy to make and just as good, or maybe even better than the real thing.  For some other recipes for healthy versions of your favorite candy, click here!
What are your favorite healthy Halloween treats?