We LOVE What I Ate Wednesday, a weekly food diary "party" hosted by one of our favorite bloggers, Jenn of Peas and Crayons. What I Wish I Ate Wednesday is Healthy Way to Cook's roundup of the best What I Ate Wednesday posts from the previous week.
Posts from 4/10:
Kelly of Cupcake Kelly's has been working with a nutritionist for the past two months and wanted to share how she's "upped her game" recently. Last week she incorporated a lot of greens and protein powder into her eats, along with mountains of veggies in and on the side of her meals. I really loved the protein smoothies she posted–banana, peaches, mango and spinach, and a "PB & J" smoothie with banana, raspberries, peanut butter, spinach and almond milk.
Films, Food, and Beer's Melissa's post caught my eye because it started off with a series of photos of her sleeping cat. Everyone knows that my weakness is adorable animals (seriously, if my coworkers send me animal pictures my productivity for the day is gone), so naturally I had to keep reading. She had tons of delicious, healthy meals and snacks like fruit-topped multigrain cereal, ratatouille, and Chobani Greek yogurt. She also baked a batch of vegan vanilla biscotti. Definitely a must-try recipe!
On Greens and Coffee Beans, Lea shared that one of her goals was to start cooking healthy homemade dinners, and she really seems to be accomplishing that based on her meals last week! Her vitamin and mineral-rich vegetarian dinners are as delicious as they are healthy: several combinations of sweet potatoes, eggplant and kale with a variety of spices and other veggies. Her post was really great reminder of how much variation you can put into a plant-based diet.
Samantha posted a simple but mouthwatering recipe for taco rice on Running and Cupcakes, complete with a homemade taco seasoning mix. It reminds me of a burrito bowl from Chipotle, only without all the added sodium! It would make a really great weeknight dinner since you can prepare the ground beef (or turkey or chicken or some meatless protein alternative) while the rice is cooking!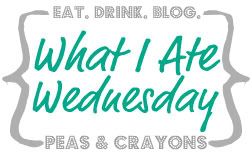 Want a chance to be featured in a future roundup? Link up your post with Peas and Crayons, tweet it with #WIAW, and keep checking back on Healthy Way to Cook!